Got a mess that's too big to handle or a remediation situation that requires expert attention? ServiceMaster of Anderson is on the job! Our cleaning services in Anderson, IN can be tailored to meet the sanitation and remediation needs of any situation, and we act with promptness to see that everything is cleaned up in a timely manner.
Thorough Cleaning Services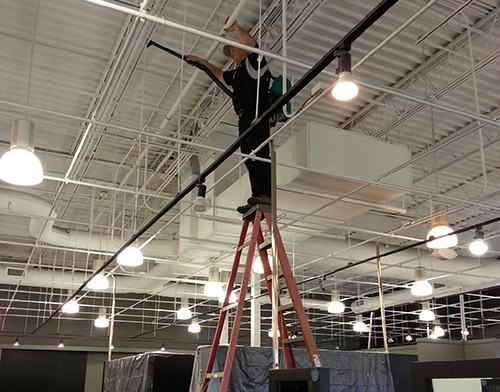 Whether you're dealing with the aftermath of a severe mold infestation or you're just looking for a seasoned window cleaner in Anderson, IN, we're the ones to call. Some of the projects we're familiar with include all of the following:
Air duct cleaning
Dehumidification / moisture control
Disaster restoration
Hoarding clean-outs
Mold remediation
Odor mitigation
Post construction cleaning
Pressure washing
Window cleaning
We take immense pride in our reputation for pristine results, which means you can expect our team to put in the effort on every jobsite. More than just elbow grease and know-how, we bring diligence to our work and a focus on customer safety.
A Focus on Safety
Customers frequently call us to come and tackle jobs that put their health and safety at risk. From chemical concerns to noxious fumes and anything else, trust us to come equipped to tackle any threat. We work with the utmost safety in mind, and strive for clean results that eliminate dangerous threats to your health and wellbeing.
Get the Cleanest Results
At ServiceMaster of Anderson, our professional cleaners achieve results that no off-the-shelf cleaning supplies can. Using state-of-the-art equipment, backed with expert know-how, we leverage our abilities to provide customers with the cleanest possible facilities. From your home to your business and beyond, trust us for an unparalleled level of cleanliness.
Reach our team today at 765-649-2251 for more information about our capabilities or to get an estimate on a remediation or cleaning project based on the scope of work involved.