Are you having a hard time finding a good commercial janitorial service provider in Anderson or Madison County? Turn to the trained and certified team at ServiceMaster of Anderson. We provide comprehensive janitorial services in Anderson, IN, tailored around the needs of your business to ensure it's always looking sharp. We'll keep your commercial property spotless and comfortable!
Janitorial Services with No Corners Cut
There's a lot to be done in the way of commercial cleaning. Finding a reputable company to do it all day-in and day-out can be hard. At ServiceMaster of Anderson, we make it easy! We work with you to get a scope of work upfront, then tailor our abilities to meet your needs.
From weekly cleaning to more frequent services, we'll put in the work your facilities need. Our capabilities include:
Carpet care (vacuum, deep clean and stain removal)
Hard surface floor care plus tile and grout cleaning
Capture and removal process for dust and debris
Restock paper goods/soap in restrooms, break rooms and kitchens
Upholstery cleaning
Window washing
Detail clean for high-traffic areas (entrances and lobbies)
Waste removal
If your facilities have unique or special care needs, we'll be glad to tackle those as well. Our cleaning services in Anderson, IN are designed to meet any and all expectations you might have for quality and thoroughness.
Revitalize Your Office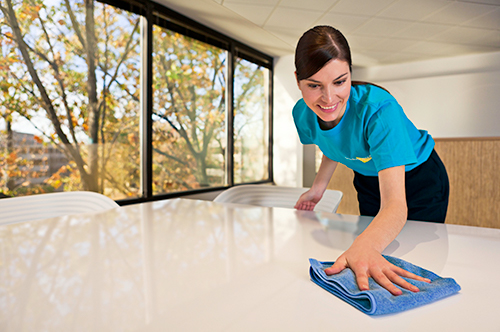 More than just running a vacuum over your surfaces or emptying waste bins, we're the premier choice for janitorial services because of the efficiency our teams leverage. Our latest technology and modern techniques have taken commercial cleaning services to a whole new level! Not only do we work fast, we perform the entire scope of cleaning services without compromising on quality. When we're through, your office will look, feel and smell cleaner and more welcoming—guaranteed.
Keeping Workers Happy & Healthy
Routine janitorial services will not only present a clean workspace, they're also your foremost method for keeping your employees happy and healthy. Cleaner shared workspaces mean fewer germs and illness transmissions. Your employees will spend less time home with the flu and more time working productively! Plus, a clean workspace makes for happy workers, who will appreciate and enjoy their work environment.
Give Your Office the Regal Treatment
Don't just delegate cleaning duties to office managers or workers. Instead, rely on ServiceMaster of Anderson for top-tier cleaning services in Anderson, IN. We'll ensure your facilities are clean from top-to-bottom. Just contact us today at 765-649-2251 to tell us more about the scope of your needs.