Have torrid rains caused flooding in your home? Problems with your plumbing that have resulted in soaked carpets? Any sort of water infiltration into your space needs to be remediated immediately! ServiceMaster of Anderson is ready to act fast, offering water removal and carpet cleaning in Anderson, IN any time, 24/7.
Minimize Water Damage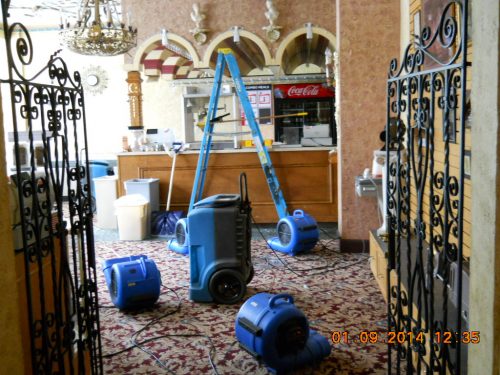 Water can cause saturated wood to warp and rot, mold colonies to form and much, much more. The worst part is, it takes very little time for these damages to occur and they can pose lasting problems if not taken care of entirely.
ServiceMaster of Anderson arrives quickly and works rapidly to determine the extent of your water intrusion, any affected areas or materials, and what the best course of action for remediating it might be. Then, we don't waste any time in acting. We'll completely dry and remediate your area so you can overcome your water troubles with complete peace of mind.
Fully Licensed Experts
Our reliable team is trained and certified by the Institute of Inspection, Cleaning and Restoration Certification to handle water damage restoration requirements in your home or office. This means we're capable of dealing not only with the water removal, but what comes after everything is dry. Whether this means mold remediation or build-backs to restore your facilities, count on us to get the job done fully and completely.
Full Water Remediation Services
Alongside water removal and professional carpet cleaning in Anderson, IN, we take steps to ensure flooding and any peripheral problems are taken care of completely. To do this, our experts utilize a precise process that covers all bases. Our checklist includes:
With comprehensive oversight of any water-based situation, we're effective at not only cleaning up—we're also your first line of defense against developing problems in the future.
Residential or Commercial Service
Water destroys indiscriminately. Homes can flood just the same as businesses, which is why ServiceMaster of Anderson offers water remediation services to all types of customers. No matter the facility or the extent of the water damage, you can count on us to tackle the job thoroughly and completely. We'll make sure your home is comfortable and your business is ready to welcome guests in no time at all.
Say Goodbye to Water Damage
For more information about how we approach water damage remediation and the depth of services we're able to offer, please contact ServiceMaster of Anderson today by calling 765-649-2251.