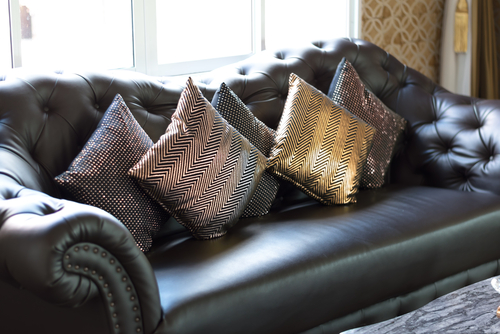 Cleaning your sofas, chairs, curtains or other upholstery pieces can be a chore. Instead of trying to decide which vacuum attachment to use or wondering what chemicals are safe to use on your fabric, call ServiceMaster of Anderson. We're your expert upholstery cleaner in Anderson, IN, restoring the beauty and cleanliness of upholstery throughout your home or business.
A Delicate Touch
When cleaning upholstery, a delicate touch is paramount. Using harsh chemicals or improper cleaning techniques can break down your fabric fibers or ruin leather or suede. Moreover, some approaches can even push dirt and debris further into your upholstery, making it harder to clean and restore.
Our team uses only safe products and proven cleaning methods to produce refreshing results. Call us to tackle those ardent stains or years of wear, and we'll leave you with upholstery that looks brand-new again.
Residential Upholstery Cleaning
Can't remember the last time you deep-cleaned the furniture in your living room? Are the drapes in your bedroom looking discolored or dusty? It's time to call a furniture cleaning service in Anderson, IN! ServiceMaster of Anderson is ready to answer that call.
Our team has a distinct reputation for excellence when it comes to cleaning your home's furniture and other upholstery. We work quickly, thoroughly and intelligently, ensuring every piece of upholstery is given the attention it deserves. Our mission is to leave your home looking, feeling and smelling refreshed.
Commercial Upholstery Cleaning
Waiting rooms, office spaces, break rooms and more all include furniture that suffers heavy wear and tear. Without proper cleaning and maintenance, your commercial upholstery could quickly show its age.
The team at ServiceMaster of Anderson partners with many commercial clients to provide routine upholstery cleaning services. We take pride in helping your investments last longer and look better. We'll make sure your visitors and employees are comfortable at all times.
Need Expert Upholstery Cleaning?
Have you noticed blemishes and discoloration becoming prevalent on your upholstery? Are there odors emanating from your furniture that just won't go away? These issues and more can all be mitigated with expert, thorough upholstery cleaning services.
ServiceMaster of Anderson is ready to carefully and completely clean your upholstery—whether at home or in the workplace. Contact us today at 765-649-2251 for a quote and we won't waste any time in showing you why we're the premier upholstery cleaner in Anderson, IN.