Are you looking for competent carpet cleaning in Anderson, IN for your home or commercial establishment? Your search ends with ServiceMaster of Anderson! We have the equipment and expertise to remove dirt, detergent, moisture, odors and more from your carpets. No matter the traffic it sees or the type of fibers it's made of, we take pride in restoring the appeal and resilience of your carpeting.
Top-Quality Cleaning by a Trained Team
Even if you run a vacuum over your carpet each and every day, you're still missing dirt, debris and odors that are trapped deep in the pad or engrained within the fibers. To absolve these detractors from your carpet, it takes the right equipment and knowledgeable skills.
Our team of qualified, talented experts will handle your carpet cleaning needs professionally and efficiently. Whether it's a stubborn stain or spot removal service you need, we've got you covered. Some of our abilities include:
Pre-treatment of spots and stains
Pre-application of cleaning products to loosen ground-in soil
Rinsing your carpet with clear, hot water
Post-treatment of any residual stains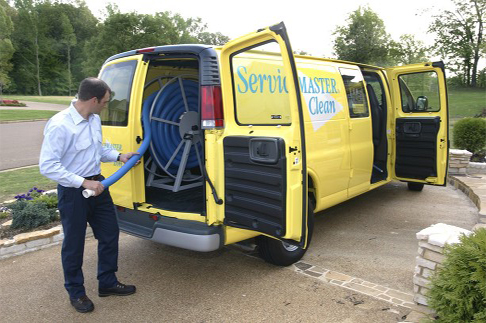 Extend the Life of Your Carpets
By making the decision to call ServiceMaster of Anderson, you're making the decision to increase the life expectancy of your carpets. More than just refreshing your surroundings, deep-cleaning your carpets will also serve to prevent premature wear that can fray fibers and break down the carpet pad. Not just for stains and odors, carpet cleaning is a smart investment for any carpeting that's due for maintenance.
Prompt, Reliable Carpet Cleaning Services
Whether as part of a cumulative house cleaning in Anderson, IN or as a standalone service, count on us to promptly address your carpet cleaning needs. We act quickly to ensure stains don't have time to fully set or that accidents are remediated quickly. Some of the jobs we're frequently called out to handle include:
Pet stains/odors
Chemical stains/odors
Trauma cleanup
Business carpet cleaning
Don't let your carpets suffer from constant wear or engrained debris. Instead, give them the attention they need, provided by one of our careful professionals. From simple stain treatment to major water remediation, we'll tackle any job, big or small.
Satisfaction is our Top Priority
At ServiceMaster of Anderson, we always strive to go above and beyond when servicing your carpets, to make sure you're fully satisfied with our services. As a result, you won't find a better standard for clean carpets anywhere else! Give us a call today at 765-649-2251 to schedule a carpet cleaning and we're certain you'll see the quality we strive to provide.